I use Shutterfly for our Christmas Cards… I love their choices and their pricing is not so bad either.  
This year I decided to go with a 5 X 7 card format and one photo.  As soon as I saw the option for this background, I knew it was the perfect one and did not have to do any more searching.  In years past the entire Christmas Card format is something that can take me a long time to figure out. 
If you are still looking to do your cards give Shutterfly a chance.
Now I just need to find my address list that sort of got lost in all my desk organization.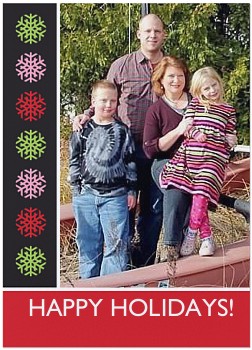 Polka Dot Snowflakes Christmas
Disclaimer:  For sharing my project on my blog it looks like I might get a $ 25.00 gift certificate towards my next purchase. :)